Kostrzyn nad Odrą
is a leading administrative and industrial centre in the district of Gorzów in the province of Lubuskie. It lies near the German-Polish border, 70 km away from Berlin. The town encompasses a road and railway hub connecting the East of Europe with the West. Here the Oder and the Warta have their confluence, which undoubtedly makes this area more picturesque.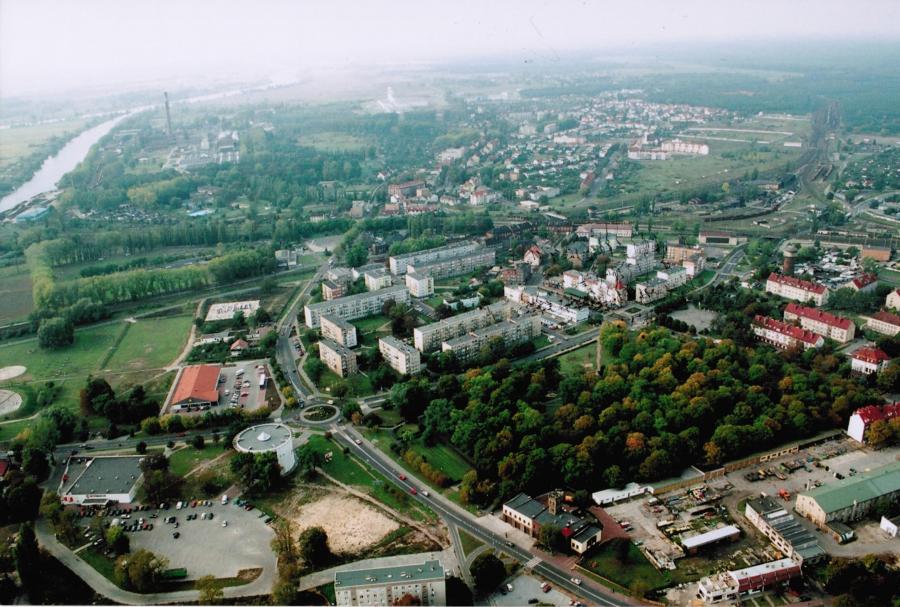 Economy
The Kostrzyń-Słubice Special Economic Zone was created in 1997 and had particular importance for the town's development. It currently comprises 41 sub-zones in the provinces of Lubuskie, Wielkopolskie and Zachodniopomorskie. The zone is not intended only for selected industries; it supports any form of activity which is eligible for assistance. Major corporations from the paper, food, textile and motoring industries decided to invest locally. They include Brinkhaus Polska, Fabryka Ceramiki Budowlanej - West, BEE Polska, PPHU Unipaco, Novo Tech, Arctic Paper Kostrzyn, Wendre Poland, Olsa Poland, Algontec Polska, Montax, Montel, Hanke Tissue, Taconic, Henschel Engineering Automotive, Młyn Julia, Green Source Poland, ICT Poland, GURI VITAL, Stenqvist Poland, Brandenburg Game, RAVEN, Dolnośląska Firma Logistyczna and "EURO-HURT Logistics". The total value of investments in the Zone has already reached PLN 5.4 billion. While Polish capital had the dominating position until the end of last year, German businesses have taken the lead this year. Companies from behind our western border have invested PLN 1.8 billion (in comparison with PLN 1.7 billion invested by Polish companies). There are still 3 complexes in Kostrzyn nad Odrą waiting to be developed, with a total area of 154.1526 hectares, of which 83.79 ha is made up by land for investments. The Market Economy Research Institute ranked Kostrzyn among the most attractive small and medium towns in Poland in terms of investments. Contributing factors included its convenient location and transport links, preferential exemptions and smooth collaboration with administrative bodies.
Science
Kostrzyn nad Odrą invests a lot in young people's education through the development of educational centres. In the 2012/2013 school year, two primary schools and junior secondary schools, five kindergartens (including one private), and a day care centre operated here. The Complex of Senior Secondary Schools provides general secondary school education in classes with the following profiles: biology, chemistry and physics; journalism and film; maths, physics and IT; and modern languages. Secondary technical schools have profiles related to economics, hotel management, and logistics; there is also a vocational school. The Vocational College has been active in Kostrzyn since 2003; it offers courses in cosmetics and paramedics.
Culture
Since 2004, Kostrzyn nad Odrą has been hosting Przystanek Woodstock, the biggest annual music festival. Since 2008, the Kostrzyn Cultural Centre (with the support of the Kostrzyn-Słubice Special Economic Zone) has organised about eight concerts in a series called Strefa Dobrej Muzyki (Good Music Zone) accompanied by music, theatre and comedy shows. Events held every year include Dni Twierdzy (Stronghold Days), O Złoty Lizak children's song contest, Sztuka na granicy (Art at the border) international open-air painting workshops, Kamień na kamieniu (Stone by stone) lithography workshops, along with a number of exhibitions and concerts at the Dacco gallery.
Investments
Kostrzyn nad Odrą has been implementing a variety of infrastructural undertakings with the support of EU funding. They have significantly boosted the town's attractiveness. Numerous roads have been built, areas for investment have got connected to utilities, important places have been refurbished (such as the Polish Army Square, the Municipal Park, the former military building in ul. Kard. S. Wyszyńskiego). Refurbishment works focus also on the Kostrzyn Stronghold, where the interior of the Filip bastion has been adapted for museum and exhibition needs. A promenade (the so-called Wały Kattego) has been built, and the bastions gained night-time illumination; the Berlin Gate has been renovated, and it is currently a tourist information point. An important investment in Kostrzyn within the last few years has been the alteration of the Amphitheatre which has become the venue for numerous Polish and German cultural events.
Tourism. The Warta River Mouth National Park
The Kostrzyn Stronghold is a place with a unique history and atmosphere, which comes highly recommended. The former Old Town with its castle, town hall, parish church and market was an architectural gem. Unfortunately, all that was left after WWII are the lower parts of the buildings and the damaged fortified walls.
The Warta River Mouth National Park lies right next to Kostrzyn nad Odrą. On a Europe-wide scale, it is a rare habitat of birds living on water and in mud. It is possible to observe 250,000 birds of various species in one day. For this reason, these areas are protected under the Ramsar Convention.